---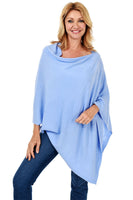 bella's Top Seller - 5 Ways to Wear it!
Our dress toppers are like potato chips...you cannot have just one!  The perfect accessory to elevate your look into a completed outfit.  Pair with jeans and a simple shirt or over a dress on a chilly evening. 100% acrylic dress topper (some might call it a poncho) offered in a variety of beautiful colors. This is one of our top five sellers - and once you wear one you will see why! 
100% acrylic
Popover poncho
Versatile in style from traditional to casual
Center back length: 22 1/2"
Machine wash or dry clean
Imported
Available online and in store
Available Colorways:   black, coral, ivory, khaki, navy, olive, periwinkle, seaglass blue, silver grey, dark grey, warm pink, wine

This item can be worn 5 ways for a variety of unique styles and combinations sure to dress up any outfit!

Traditional Poncho - Place the seam down your back, it will be shorter in front and longer in back.
Reverse Poncho - Place the seam seam down your front, it will be longer in the front and shorter in the back.
Asymmetrical - Place the seam down your arm, across your body for a more formal look.
Loose Scarf - Place the seam down your front, pull it forward vs. over your shoulders.
Chunky Scarf - Hold the dress topper with your hand through the hole, wrap it around your neck, and pull the end through - how cozy is that?!
Also can use it as a neck roll, nursery drape, head scarf, or a lap blanket when traveling! 
Trust us, ladies... one is NOT enough!Care Instructions
: Wash on gentle cycle, line dry, throw in the dryer to "fluff".