---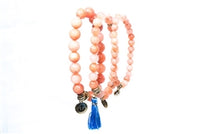 Stackable Semi-Precious Stone w/Anchor Charm
Graduated size beaded stretch bracelets with gold tone accents and our round anchor charm...our own custom design. This set also includes a blue tassel - a very trendy touch!

Wear together, stack with your other favorites, or wear one alone. This set is a wonderful addition and will become one of your favorite pieces.  Also available in turquoise and coral with or without tassel.


semi-precious stones

gold spacers and charm

3 different sized beads

Stretchy, 2.5" circumference as is; one size fits most.
Charm measures 1/2"