---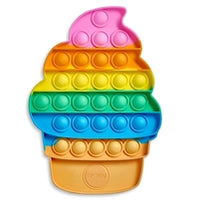 Save $5 - Set of Two I scream for ice cream! Multicolor Bubble Pop
If you enjoy popping bubble wrap then this is the ideal toy for you or your children. Pop, pop, pop! This push pop bubble fidget toy has a discrete (more importantly, muffled!) pop sound. Once you've pushed them all, turn it over and start the game again. 
There are no loose or noise-making pieces, making it great for playing in the car, bus, or plane, in a restaurant or at school. It's water-resistant, so you can play with it anywhere, even during bath time!
Teaches young children colors and counting while enjoying a screen free activity!
Measures 8 1/2" long, 6" wide 

Wash in warm sudsy water and rinse to clean